Building a pool table is a fun and rewarding project that can be completed on a weekend. The most important part of the project is to make sure you have all of the necessary supplies. In this article, I will be teaching you how to build your own pool table and all factors behind it.
Materials Needed In Building A Pool Table
You will need a few specific materials to build a pool table, including:
– MDF or plywood for the playing surface
– Nylon or polyester fabric for the pool table felt
– Rubber cushions for the rails
– Wood for the frame and legs
– Pool table pockets
– Tools like saws, hammers, screws, and so forth.
Building a pool table is not an easy task, but with careful planning and execution, it can be done. Be sure to take accurate measurements of your space before you begin construction, as this will make the process much easier. With the right materials and a little bit of know-how, you can build a great pool table that will last for years to come.
How To Build Your Own Pool Table
Building your pool table is a great way to get the perfect game room accessory without spending a lot of money. It's also a fun project to take on, and you'll end up with a unique piece that will be the envy of all your friends.
There are a few things you'll need to consider before starting this project, such as the size of the table and where you'll be putting it. You'll also need to decide what kind of material you want to use. We recommend using MDF or plywood for the tabletop, and 3/4″ thick lumber for the frame. Keep in mind that these materials can be heavy, so make sure you have help when moving them around.
Once you have all of your materials, you can start assembling the frame. Start by attaching the legs to the tabletop using wood screws or brackets.
Then, add the side rails and finally the crossbeams. These will provide support for the cloth that you'll be stretching over the table.
Now it's time to stretch the pool tablecloth over the frame. We recommend using a heavy-duty fabric, like polyester or nylon. Start by stapling one end of the fabric to the underside of the table. Then, stretch it tautly over the surface and staple it down on the other side.
Trim any excess fabric, and you're ready to start playing!
If you want to get creative, you can even paint or stain your pool table. This is a great way to personalize it and make it stand out in your game room. Just make sure you use a sealer so that the paint or stain doesn't damage the cloth.
Building your pool table is a fun project that will save you money and give you a great piece for your game room. Follow these steps and you'll be playing in no time!
DIY Small Pool Table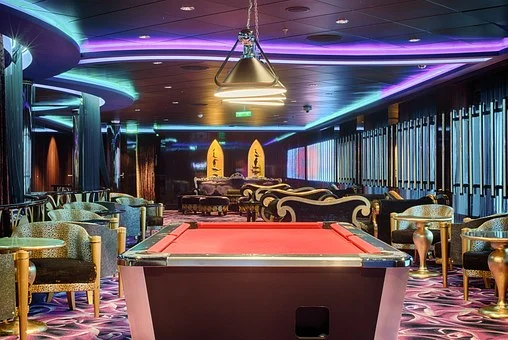 Making your small pool table is a great way to save money and have a lot of fun. You can make a pool table that is the perfect size for your home, and you can even add your personal touch to it. Here are some tips on how to make a small pool table:
1. Decide on the size of the pool table that you want to make. You will need to determine the dimensions of the room that you have available for the pool table. This will help you decide on the materials that you will need to purchase.
2. Purchase the wood and other supplies that you will need to build the pool table. You can find these materials at any local hardware store. Make sure that you get the right type of wood for the project, and that you get all of the necessary supplies.
3. Follow the instructions that come with the kit that you purchase. This will help you put together the pool table quickly and easily. Make sure that you take your time to get it done right.
4. Add your personal touch to the pool table. You can paint it, stain it, or even add decals to it. This is a great way to make it unique and to make it stand out from the rest.
5. Enjoy your new pool table! This is a great way to save money and to have a lot of fun. You can use it for many years to come, and you can even invite your friends over to play a game or two.
How To Play Pool
The pool is a popular game that can be played by anyone, regardless of their experience. To play pool, you will need a pool cue, some balls, and a table. The goal of the game is to sink all of the balls into the pockets on the table.
To play pool, you will need to know how to shoot the ball.
To shoot the ball, hold the pool cue in your hand and use your dominant hand to grip the cue. Place your thumb and index finger on each side of the cue. Next, extend your arm and aim the cue at the ball.
When you are ready to shoot, swing your arm and hit the ball with the cue. Make sure that you hit the ball in the center so that it will go straight.
After you hit the ball, it should bounce off of the walls and eventually end up in one of the pockets. If it does not go into a pocket, then your opponent can take their turn. The game is over when all of the balls have been sunk into the pockets.
The pool is a great game to play with friends and family. It is also a great way to relieve stress. If you are looking for a fun and challenging game then the pool is the game for you!
Final Thoughts
There are many benefits to building your pool table. Not only will you save money, but you will also have a great sense of pride and satisfaction knowing that you built it yourself. In addition, you will be able to customize the table to your specifications. Whether you choose to build a traditional or modern style pool table, the process is sure to be rewarding. So what are you waiting for? Get started today and enjoy the fruits of your labor for years to come.